Since being branded by Pep Guardiola as "The Harry Kane team" in October 2017, Spurs' ability to perform without their talisman has been repeatedly called into question, ill helped by a few poor performances in his absence and a plethora of goals coming from him season after season. However, whilst at a glance this claim may seem to be valid, the more one looks into it, the more inaccurate it becomes.
The purpose of this piece is to gauge how well the team as a whole copes with Kane, without Kane, and who stepped up to fill the void left by one of the most prolific strikers in the world today. 2014/15- The Breakout Season
At the age of 21 and playing alongside two experienced strikers in Emmanuel Adebayor and Roberto Soldado. Kane had a lot to learn in his first full season as part of the 1st team. Fortunately, for the recently appointed Mauricio Pochettino, he found his feet very quickly, scoring twice in League Cup games before scoring his first Premier League goal of the season against Aston Villa in November. As the season progressed, Kane would start more and more matches, repaying Poch's faith in him with many goals, particularly in big games. Due to two other seasoned strikers being at the club during this season, Kane's absence was not seen as a problematic scenario. However, neither striker particularly provided a reliable source of goals, with the likes of Eriksen and Chadli seemingly stepping up in big games.
1/1/2015- Spurs 5-3 Chelsea
The game many Spurs fans will remember to this day, simply for how exciting it was to watch and how crucial the result was for the team. The Kane inspired side dismantled the Mourinho outfit, with Kane scoring twice, as well as winning a penalty which would be converted by Townsend. It's safe to say without the Englishman, Chelsea would have extended their lead at the top of the league.
31/1/2015 – West Brom 0-3 Spurs
A Kane brace brought Tony Pulis' unbeaten start as West Brom manager to an end. This put Kane on 10 League goals for the season, 20 in all competitions. Kane was also close to a hat-trick this game, with a fierce free kick forcing Foster into making a great save.
7/2/2015 – Spurs 2-1 Arsenal
A Kane brace dragged Spurs past fierce rivals Arsenal, having fallen behind due to a Mesut Ozil goal. After converting a Moussa Dembele flick, Kane rose above everyone else to head home the winner in front of a jubilant crowd at White Hart Lane. Undoubtedly without the intervention of Kane and his prolific goal scoring ability, Spurs would have lost to their neighbours and fans would have been subject to more jeers and teasing until the next derby.
10/2/2015 – Liverpool 3-2 Spurs
Another fine Harry Kane goal, his 23rd in all competitions for the season, wasn't enough to give Spurs a point, as a late Balotelli goal won the 3 points for the hosts. This goal was his 8th of 2015, taking him level with Lionel Messi in Europe's top 5 leagues, a sign of the heights he would eventually reach. Overall, the performance was strong, with Tottenham looking as though they would at least take a point from the fixture. However, it seems a lack of experience got the better of Pochettino's team, as the goal came from a lapse in concentration from Dembele awarding Liverpool a free kick, which Balotelli would score from. Realistically, there was no more Kane could have done in this game, possibly the start of him being let down by teammates in games, where he had performed to the best of his ability. Without Kane playing, Spurs did not win a single game in the league, with 3 losses and a draw, compared to the 19 wins and 6 draws when he was available. It was clear to see that despite his age, Spurs had found a prolific striker in Kane to build their squad around.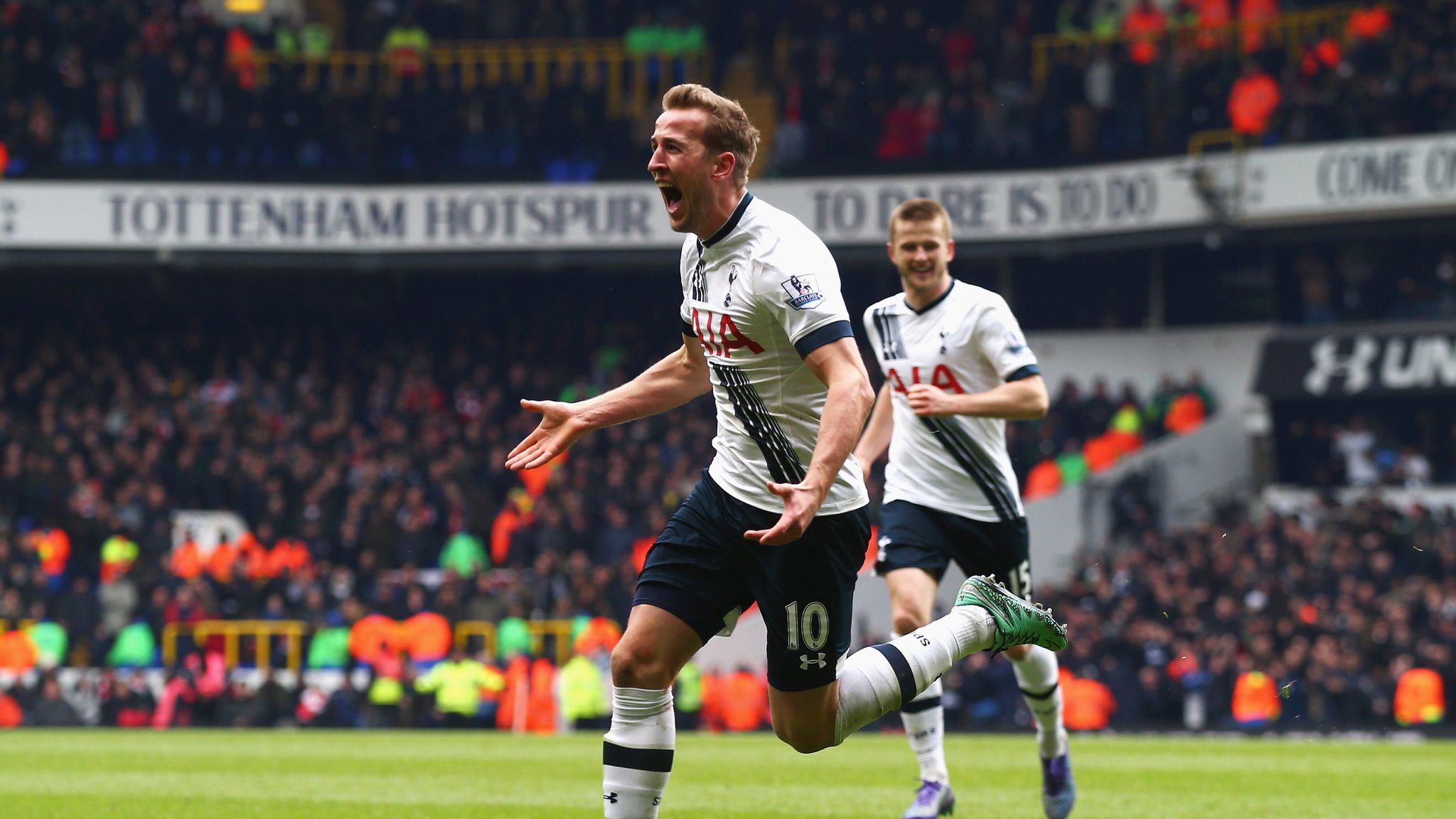 15/16 – One Season Wonder
Fresh off his first full season in the top flight of English football, Kane would be making headlines. 31 goals in all competitions for a player is no easy feat, deservingling earning the striker many plaudits. However, for all these plaudits, there were just as many critics, with many branding him "a one season wonder". Unfazed by all of the talk surrounding him and his ability, Kane duly silenced anyone questioning his ability, scoring 25 league goals for the season and 28 in all competitions. Playing all but 3 games for the season. Kane greatly impressed, especially considering he was only 22 at the time. In his absence, Erik Lamela was the man to step up, scoring 4 goals in the 3 games Kane was absent for in the Europa league.
26/9/2015 – Spurs 4-1 Man City
Harry Kane's first goal in the league after 748 minutes helped Spurs deliver Man City's second successive defeat. Kane had many close calls, firing wide before being denied by Caballero, before following up on a Christian Eriksen free kick that had come off the post. This seemed to be the start of Kane's 'annual August curse' a problem that seems to occur every season until recently.
4/10/2015 – Swansea 2-2 Spurs
Whilst the score sheet might not reflect it because of Kane's own goal, he still found the ways to create and get into the right areas, showing that despite the lack of goals, he still has the instinct of a great striker. Two Eriksen free kicks were enough to salvage a point for Spurs in a display that arguably should have seen the away side come away as the victor.
25/10/2015 – Bournemouth 1-5 Spurs
A hat-trick for Kane helped Spurs dispatch of the Cherries convincingly. Kane's first would be the equaliser, a penalty which he had won after being brought down by the Bournemouth keeper. Kane would then assist Lamela for Tottenham's third goal, before turning in Eriksen's cross for his second. Kane would eventually take advantage of an error from the Bournemouth goalkeeper to complete his hat-trick. This was only Kane's second premier league hat-trick of his career and took his goal tally for the season to 4, having failed to score in his 13 previous appearances.
8/5/2016 – Spurs 1-2 Southampton
In the penultimate game of the season, Spurs suffered a defeat at the hands of Southampton. Heung-min Son would score the first goal of the game before a Steven Davis brace would seal the win for the visitors. Kane would have a relatively quiet game, not really challenging the Southampton defence.
16/17 – The First Bump in the Road to Greatness.
After two promising seasons, Spurs fans had hoped that this season would be the one where Kane took the club towards that final step. Unfortunately, it was not to be for the North London side, as Kane would suffer two separate ankle injuries at either end of the season, ruling him out of crucial fixtures which may have allowed Spurs to beat Chelsea to the title. Despite only playing 38 games of a possible 53 in all competitions, Kane still managed an extremely impressive haul of 35 goals, a true display of his determination to push through injuries in order to help out his teammates. During his absences, Spurs would win 5 and drew 3 of the 8 league games, with the likes of Heung-min Son and Dele Alli stepping in to fill the role of goal scorer.
26/2/2017 – Spurs 4-0 Stoke City
A 23 minute first half Harry Kane hat-trick would help Spurs walk away with a 4-0 win against The Potters. This would be Kane's second hat-trick in as many games, and his third in 9 games. The first was a trademark low driven shot into the bottom corner, while the second was a delightful left footed half volley from an Eriksen corner. The third would be slightly more fortunate, but still a well worked routine regardless, as Eriksen laid Kane off from a free kick before his shot deflected off Crouch, leaving the Stoke keeper helpless to stop it. Alli rounded off the scoring, added a fourth after sliding Kane's cross into the back of the net.
1/4/2017 – Burnley 0-2 Spurs
With Kane suffering from his second ankle injury of the season, Spurs needed a man to step up. Wanyama and Winks had both been forced off with injuries before Janssen fell to the same fate. The hero came in the guise of Son, who came off the bench for Janssen and scored the second goal to ensure the victory for Spurs, following Dier's opener.
5/4/2017- Swansea 1-3 Spurs
With Kane still out through injury, Son, Alli and Eriksen were the men to step up once again. Eriksen would arguably be the standout performer, scoring the third – a delightful curling effort and assisting Alli's equaliser. However, Kane's presence was evidently still missed with all 3 of Spurs' goals coming in the last 10 minutes of the match, 8 of which were in added time.
8/4/2017 – Spurs 4-0 Watford
Goals from Alli, Dier and a brace from Son saw Spurs cruise past Watford at White Hart Lane. With Kane still recovering from his second ankle injury of the season, Son was the player to step up, scoring in the 44th and 54th minute whilst finding a way to assist Alli for the opener. Kane would make a second half appearance, striking the bar with a late free kick as the final action of the game.
17/18 – Back to Business
After spending a great deal of the previous season injured, Kane quickly found his stride again, totalling 30 league goals for the season, 41 from 48 in all competitions – one of his best goal to game ratios yet. Having only suffered a small hamstring injury in October and an ankle injury that coincided with the international break, Kane only missed 3 club games through injury over the course of the season. It appeared to Spurs fans that after last season's double injury scare was a thing of the past and that their star man was back to his very best. With Kane being fully fit for all but 3 games, 2 of which were losses, Christian Eriksen was seemingly the man to step up, scoring a brace in the FA Cup Sixth Round against Swansea.
13/1/2018 Spurs 4-0 Everton
A Harry Kane brace sandwiched between goals from Son and Eriksen saw Spurs dispose of Everton. The two goals from Kane would see him surpass Teddy Sheringham as Spurs' all time Premier League top scorer, with 98 goals to his name at the time. This would also take Kane to 20 league goals for the season, with 28 in 28 across all competitions. Eriksen would score a beautifully worked team goal, with every player having a touch of the ball, while Son arguably deserved more than the one goal he did get, seeing a shot rebound off the post.
11/3/2018 Bournemouth 1-4 Spurs
With Kane suffering an ankle injury early in the first half, Spurs produced two late goals to see off Bournemouth, with Son once again proving his worth with a brace. After Stanislas opened the scoring in the opening 10 minutes, Dele would equalise 10 minutes before half time. Son once again would put Spurs ahead with a scuffed volley beating Begovic before rounding the keeper to put away his second. Serge Aurier added a late far post header to cement Spurs' victory.
17/3/18 Swansea 0-3 Spurs
With Harry Kane ruled out through the same ankle injury he'd sustained in the previous season, Eriksen would deliver a brace, either side of Lamela's goal to send Spurs to the semi final of the FA Cup. Kane, who had 53 goals in 53 matches at the time, was not missed it seemed, with Eriksen simply having the Swans on strings throughout the 90, with the score reflecting the dominance of the visitors.
14/4/2018 – Spurs 1-3 Manchester City
A generally disappointing display from both Kane and Spurs would see City leave Wembley with all 3 points, despite Eriksen's goal causing panic for the visitors, who had just recently blown a 2 goal advantage against Manchester United. Eriksen's goal came from a niche Harry Kane through ball, having his shot rebound off Laporte and then off himself before it ended up in the back of the net. The defeat ended an unbeaten run of 14 games in the league for Spurs, a streak that started after the 4-1 loss to City in December.
18/19 – History Without Kane
The England captain had a rollercoaster of a 2018-19 campaign to say the least. Many would have expected Kane to follow up his 41 goal season with something similar, however ligament injuries would force Tottenham's talisman to miss a total of 16 matches.
A shortened season for Kane would lead to his worst Premier League scoring tally in five years, having registered 17 goals in 28 appearances. However, the former golden boot winner would hold his own when it came to continental competition – scoring 5 goals in 9 appearances.
6/11/18 – Spurs 2-1 PSV
Tottenham's hopes of qualifying for the knock-out stages of the Champions League hung in the balance, as the team welcomed Dutch side PSV to England. Luuk De Jong would give the visitors the lead in the 2nd, through a towering header over Alderweireld. With only 20 minutes of action remaining Tottenham needed to step it up a gear if they wished to come away with a victory, which of course Harry Kane was able to do. Fernando Llorente would knock the ball down for the England captain to rifle into the back of the PSV net, before adding a second goal with a minute to go. Kane would rightfully receive plaudits after the match, due to the superhuman effort he had put forward in being able to will his side to victory on such a frustrating night.
With Kane on the sidelines, many wondered if Spurs would be able to cope with the situation – something they were sure able to do.
Six wins, one draw and three losses would be enough for the Kaneless Tottenham Hotspur to secure qualification for the 19/20 Champions League, a feat that many had expected from the North London side to start the season.
Although qualification had been achieved, Mauricio Pochettinho's side had their sights set on something bigger, as Tottenham were able to go on a historical run without 'one of their own' culminating in the club reaching its first ever Champions League final.
8/5/19 – Ajax 2-3 Spurs
Trailing 1-0 from the first leg, Spurs made the worst possible start in Amsterdam when a towering 5th header from Matthijs de Ligt doubled the advantage for the Dutch side. Hakim Ziyech would double Ajax's lead with a sweeping finish in the 35th minute. Lucas Moura would reduce the deficit with a composed finish in the 55th minute. The Brazilian would not take no for an answer during the contest as he would tuck another shot into the back of the Ajax net four minutes later, creating a tense atmosphere for the rest of the match. Lucas Moura would write his name into Spurs history in the 96th minute of action, completing his hat-trick with a left-footed effort from 16 yards out.
With immortality on the line, Harry Kane would rush back from injury in time to play in club football's biggest fixture. Spurs' attempt to have the best team available for the final would all be for nothing, as Harry Kane would have little to no impact against Liverpool culminating in a 2-0 victory for the Kop.
The 2018-19 season will always be surrounded with hypotheticals and questions of what could have been but it's safe to say that Spurs proved to the world that they were not over reliant on their number 10.
Harry Kane would finish the season with 24 goals in 40 appearances.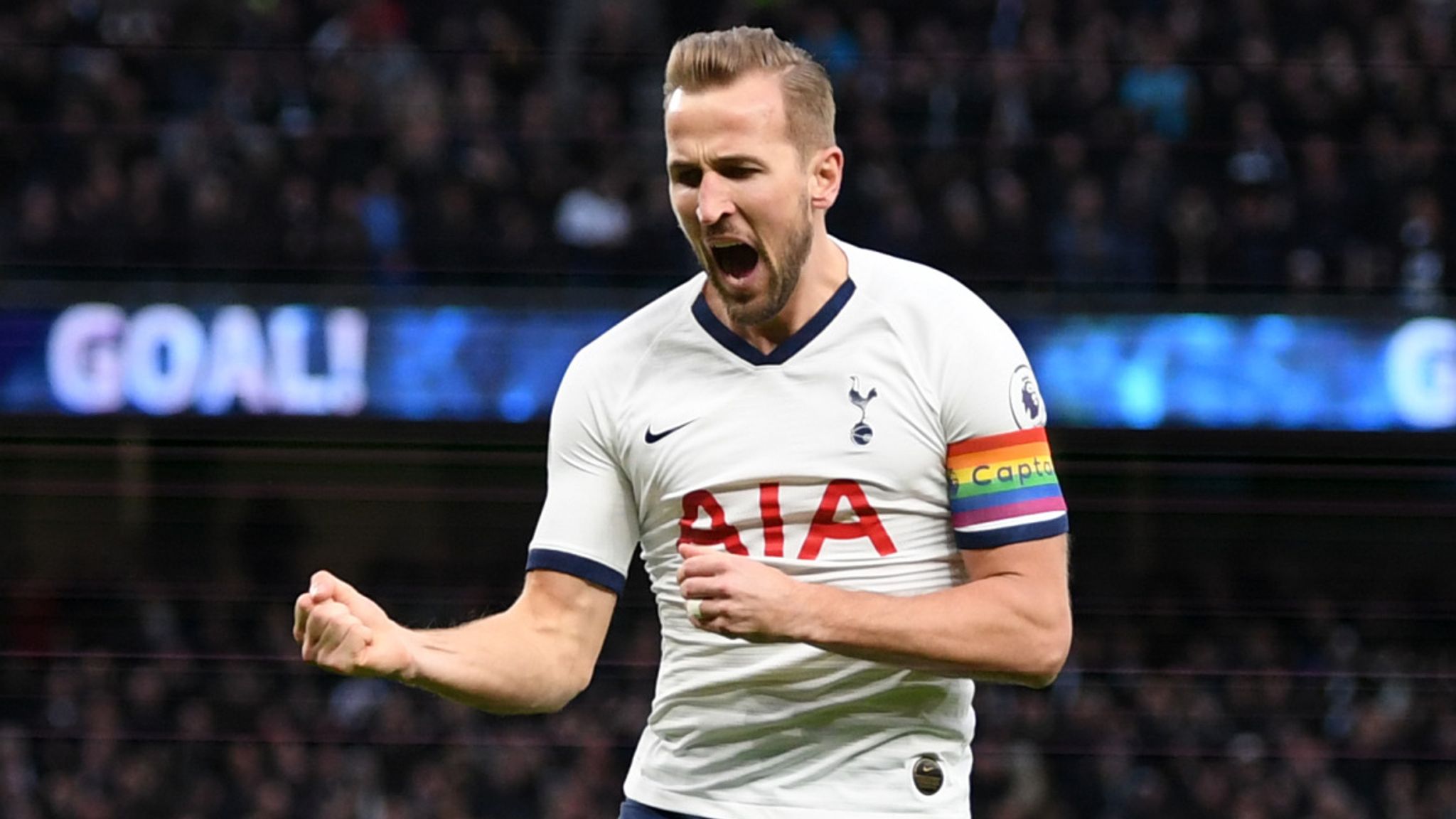 19/20 – Disappointment All Around
Having experienced football's elite competition like never before, Tottenham fans and players alike would have hoped to overcome that final barrier and cement themselves among the best. Mauricio Pochettino would look to improve the squad which came so close to history with the addition of record signing Tanguy Ndombele, Giovani Lo Celso, Ryan Sessegnon and most importantly a fit and hungry Harry Kane.
Although being one of the best players in English football, critics were beginning to question whether Spurs have more chance of success without their star striker, following the unexpected run to the Champions League final in his absence.
Spurs' start to the season was well below what many had predicted for the North London side and would lead to the eventual sacking of fan favourite Mauricio Pochettino, following a 7-2 thrashing at the hands of Bayern Munich and a shock 3-0 loss to Brighton. Pochettinho would be replaced by Jose Mourinho on November 20th.
Kane's goal return for the 19/20 season would be higher than the previous year but it still wasn't up to the standard that Kane would have hoped to achieve, registering 18 Premier League goals. The England international would once again be ruled out for a chunk of the season due to injury, missing 16 matches in all competitions due to suffering a thigh muscle rupture against Southampton on January 1st 2020.
2/2/20 – Manchester City 0-2 Spurs
It was a night to remember for new signing Steven Bergwijn, as a Tottenham side without Harry Kane was able to pull off an upset against title chasers Manchester City.
Manchester City would begin the contest with a flurry of chances, which would leave many asking how Pep's team did not have the lead heading into half time.
Lloris continued to pull off outstanding saves throughout the match, as he was able to flick a Sergio Aguero effort on to the post before Coty were awarded a penalty due to a clumsy challenge made by Serge Aurier towards the end of the first half. However, Lloris would once again come up huge for Spurs by saving Gundogan's spot-kick.
If City expected more of the same in the second half then they were truly mistaken, as Ukrainian Zinchenko's challenge on Harry Winks resulted in his second yellow card of the match, leaving City with 10 men.
This would allow Spurs to grow into the game, before debutant Steven Bergwijn blasted a half volley from 15 yards out into the bottom right corner of the City net. om 15 yards to set them on their way.
Heung-min Son's effort doubled the Tottenham lead, thanks to a defection off Fernandinho leaving Ederson rooted to his spot.
10/3/20 – RB Leipzig 3-0 Tottenham
A wounded Tottenham's Champions League campaign came to an end in the last 16 at the hands of German side RB Leipzig.
Spurs came into the match behind 1-0, having lost the first leg in London. Marcel Sabitzer's double 20 minutes into the match was the beginning of the End for the North London side, with control firmly in the hands of Nagelsmann's side.
Hugo Lloris might have felt that he could have done better with both goals, getting a hand on both of the Bundesliga sides' shots.
The intensity that Leipzig played with was a problem for Spurs throughout the night, as Emil Forsberg would score with his first touch of the game, having come on for Sabitzer in the 86th minute, giving Leipzig a 3-0 lead at Red Bull Arena.
Spurs were expected to struggle without Son and Kane but a 4-0 aggregate loss will be one of huge disappointment for everyone involved.
The COVID-19 pandemic would allow Harry Kane to return to action towards the end of the season, helping Spurs secure qualification for the Europa League and 6th in the Premier League.
Harry Kane on the other hand would finish the season with 24 goals in 34 appearances in all competitions, a goal scoring record that many players would be envious of.
20/21 – Performance's Beyond Belief
Harry Kane's 20/21 campaign was nothing short of historic. Despite dealing with many hardships over the last few years, Kane would make sure that his reputation would remain intact as he produced one of the greatest individual seasons in Premier League history.
The striker would register 23 goals and 14 assists, winning both the golden boot and playmaker award for the season.
Fortunately enough for Kane, his almost annual injury didn't result in a large number of games being missed. Spurs would play four matches over the course of the season without the league's statistical leader – recording one win, one draw and two losses (25% win rate).
The poor results without Kane in the lineup emphasised how much of an influence he had on results during the season, causing many to wonder where Spurs would have finished without their star man.
4/10/20 – Manchester United 1-6 Spurs
An early season clash saw Spurs thrash Manchester United 6-1 to record a historic victory. United would take the lead in the opening stages of the match, as Bruno Fernandes was able to convert a penalty in the 2nd minute, thanks to Davinson Sanchez bringing down Anthony Martial in the Tottenham box.
Tanguy Ndombele and Heung-min Son would quickly overturn the deficit, scoring in the 4th and 7th minute respectively. Anthony Martial would see himself dismissed in the 28th minute following an altercation with Erik Lamela which caused him to lash out on the Argentine winger. Harry Kane would get in on the action just two minutes later, as the Spurs attack would press the United defence into making a mistake from their own goal kick, giving Kane the opportunity to slot the ball into the net for 3-1.
Son would add a fourth for Mourinho's side just before the half time whistle blew, his second of the match. Goals in the 51st and 79th from Serge Aurier and Harry Kane would conclude a historic result for the North London side, a match that many won't forget for a while.
25/4/21 – Manchester City 1-0 Spurs (Carabao Cup Final)
If Spurs believed that they would receive any sort of boast by sacking Jose Mourinho and appointing Ryan Mason, heading into the Carabao Cup final then they were mistaken. Tottenham would manage to register just two shots at the Manchester City goal in their sixth final of the century. City would be on the front foot from the first whistle, patiently waiting to strike against a scared Tottenham side. Aymeric Laporte would rise above Moussa Sissoko to head home a free-kick from Kevin De Bruyne in the 82nd minute. Many would suggest that Laporte was lucky to be on the pitch, having walked a tight line while on a yellow card but that would not be an excuse to try and justify a poor performance from Mason's team. Harry Kane would once again return from injury in order to participate in the final, although his appearance would not amount to much.
A 7th placed finish and a cup final loss was not how supporters assumed the season would finish after such a bright start but Kane's play was something Spurs fans could smile about.
The England captain would end the season with 33 goals and 17 assists in all competitions.
Having moved past a summer full of controversy, rumours and uncertainty, Spurs fans will be hoping that everything can be put in the back for now and Kane helps lead Spurs to a successful season under new manager Nuno Espírito Santo.
By Ben Mitcham and Reece Coughlan